Unmade Meets Kitty Joseph
This post originally appeared on the Unmade website in March 2016. Read here.
We didn't know what to expect when we went to visit Kitty Joseph's studio. We were there to talk about her collaboration with Unmade, a few days before her showcase in Paris. But we certainly didn't think we'd be greeted by larger than life posters of Zandra Rhodes walking up the stairs leading to Kitty's studio! In fact, said studio is based in the bright orange and pink Fashion and Textile Museum on Bermondsey Street, opened by Zandra herself.
Fittingly for a textiles and prints designer, Kitty's studio feels like a concentrate of inspiration. There isn't a single square inch that's free of fabric samples and tests, clothes, sketches, books or even Lego. After completing a degree at Chelsea College of Art followed by a masters at the Royal College of Art, she unexpectedly sold her entire graduate collection. The collection was titled 'Colour Immersion' and was inspired by Olafur Eliasson's Rainbow Panorama. It "was all about encasing yourself in colour" so to reflect this, and with some encouragement from her PR, Kitty "decided to make a very simple collection of clothes."
Her upcoming collection is still very much feeding Kitty's obsession for colour. She'd been "looking at Josef Albers' Interaction of Color, and wanted to play on relationships of just two colours in isolation.
Did you ever do knitwear before? No, I was too impatient! I found knitting and weaving too slow. But a lot of things that I do now are inspired by the way you would think about weaving a textile or designing a knit.
How do the Unmade jumpers fit into your FW16 collection? I was in a way restricted by two yarn colours, which was great. I developed my palettes and started mixing two colours in different ways, like this lovely pixel effect [in the Unmade jumpers]. It's something I've explored in past collections, using two colours in a kind of fine spray effect so your eye mixes the two. I've got this gradient idea executed in a kind of speckle, almost like taking ideas from pointillist painting. I also started playing with stripes and checks [on other garments] because that's a perfect vehicle for exploring colour. I always like the idea of colour slightly distorting the shape [of the silhouette], which I've developed further with the pleats, because you get an added light and shade.
Kitty showed us additional fabric she developed after receiving her Unmade final pieces, using a pixelated gradient print on the fabric. The pattern on these pieces mirror her Unmade design, but the pleats and different shades introduce yet another dimension to the colour explosion.
Is there something you're looking forward to for next season? I'm really excited about the Missoni exhibition that's coming here to the Fashion & Textile Museum. Their use of colour is so inspiring. Especially in the last couple of seasons, my work has been more about exploring colour in very simple graphics: stripes, gradients. It's become quite focused.
Unmade Meets Partizan Brewing
This post originally appeared on the Unmade website in March 2016. Read here.
So you've made it through Dry January and even February's long gone by now, which means all those pesky New Year's resolutions are forgotten, never to be mentioned again! That's why we feel now is a good time to tell you about Partizan Brewing. A beer with a refreshingly bright illustrated one-of-a-kind label might be just what you need.
Partizan Brewing has been with us since the beginning of Unmade, providing us with delicious beer for our launch parties, and so we were curious to find out more about the man behind the label, so we went to visit super friendly founder Andy Smith in his Bermondsey brewery.
After three years at Redemption Brewery in North London, Andy was growing restless and his boss, also called Andy (!) suggested he opened his own place. This is where Andy's friendliness is key: the Kernel (another famous indie brewery) had just moved to new premises with new equipment and offered him their old one as a starting gift!
One of Partizan's obvious selling points and part of their identity is their bright and inventive labels, designed by illustrator; Alec Doherty. Alec met Andy when they were both students in Leeds, and as chance would have it, just as Andy was starting out, Alec Doherty was taking some time off from his food packaging job. In the early days of Partizan they both agreed to making a unique illustrated label for every brew made, and Alec now creates a new one every week.
So, we asked Andy what an Unmade x Partizan beer would taste like? "It would be a sort of bespoke one" says Andy, "one that you could blend yourself." What comes to mind is a project Partizan and the Kernel are working on together, following a "really old technique. When you mash barley, the first sugar that comes out is really strong, and towards the end, because you are rinsing it out with water, it gets weaker and weaker." Partizan takes its share of the stronger first batch, while "the Kernel made a weaker beer. [Theirs] is going to be around 3-4% and [ours is] a barley one, which is 10%. The idea is to blend them back together to your own likeness."
Our London Fashion Week Recap
This post originally appeared on the Unmade website in February 2016. Read here.
Sadie Williams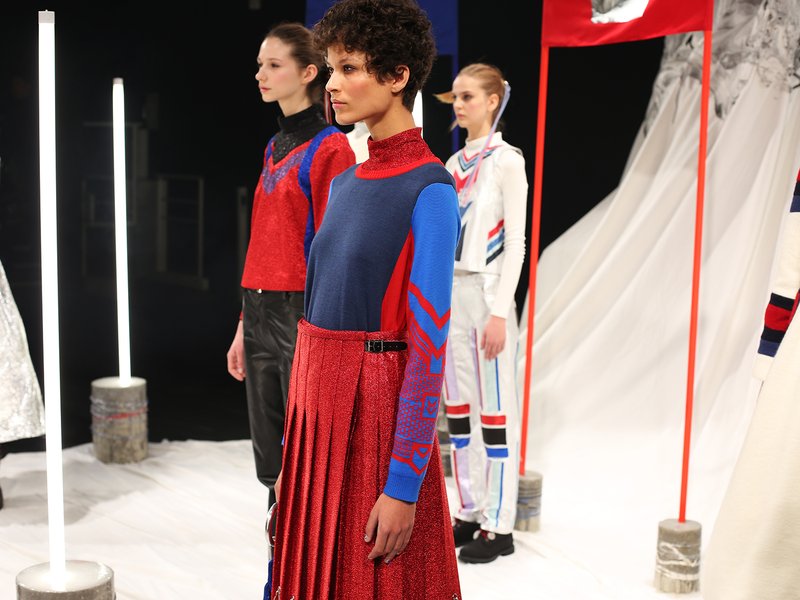 The atmosphere feels feverish outside the ICA on the Mall on a bright and sunny Friday morning. Being outside is a relief after the buzzy opening of the International Fashion Showcase in Somerset House the night before (and the many Proseccos that came with it).
We're here to see Sadie Williams' first ever presentation at London Fashion Week. If the name sounds familiar, it might be because she was one of Selfridges' Bright Young Things in 2013, or because of her lurex filled 2014 capsule collection with & Other Stories. This time, she's incorporated two looks created with Unmade in her AW16 collection (available to pre-order soon).
The name of the collection, 'Off Piste,' gives us expectations of a ski trip down memory lane (should we say memory piste?). Indeed, once we get into the dark space, all the models are standing on a blindingly white simulated mountainside, complete with neon slalom poles and gates. Sadie's signature lurex features heavily in the collection, which was inspired by a photograph of her parents skiing. This isn't athleisure: when all dressed in foiled leather, sequins and chevron knits (by Unmade), with killer carabiner clasp adorned bags, the Sadie Williams girl looks like she's going somewhere, and that somewhere sure isn't Chamonix.
Dian Pelangi x Nelly Rose x Odette Steele
What's great about Fashion Week is that it allows you to visit places that you might not have any reason to otherwise: and the Fashion Scout shows, held at the Freemasons' Hall is a great example of that. On the Saturday of London Fashion Week, sitting front row to witness new talent's first exposure to the general public… now that's what makes the trip into central London on a weekend morning worthwhile (particularly when you can see an Unmade collaboration or two!).
The aforementioned new talent we came to see was a collaboration between Dian Pelangi, Nelly Rose and Odette Steele, who created a design for ourInternational Fashion Showcase collection (supported by the British Fashion Council). Before their chance to shine, we saw a few looks by Fengyi Tan: beautiful, but almost scary since some outfits tied the models' feet together. Then came Edda, with voluminous, outlandish, painted-on looks, and almost cartoonish shoes.
When our friends' outfits finally came trotting down the runway, what we saw was a flash of colours, textures, embroideries, and delightful little details such as the Tinkerbell-like sound made by the paillettes sewn onto some of the garments. By the end, we were pretty much left blinded by the three designers' beautiful smiles when they took their bow.
You can buy their design for Unmade here.
Christopher Ræburn
For the last day of London Fashion Week, we're back at the ICA, to see our old friend Christopher Raeburn. Even though there wasn't a new unmade piece on show, it's always great to see what everyone in the Unmade family is up to. The pitch-black space, offering a stark contrast with the crisp and sunny winter morning outside, is only lit by flashing neon lights incorporated into a climbing frame-like structure in the center. The models sometimes changed position to step on to the different levels and for once you don't fear for their ankles, since they're all wearing flat boots. The rest of the outfits reflected Christopher's signature utilitarian garb, all in military green and grey, occasionally broken up with a dash of crimson red. The result is a collection that you sense was created for a girl who knows what she wants and won't settle for anything less. The coats aren't messing around, but have super sophisticated details; the knits look crazy cosy, (since you know they're all Woolmark approved); the jumpsuit looks like the easiest piece to live in, but it's embroideries and cut-outs make it feminine enough that you wouldn't confuse it for a boiler suit. You know what's going on our wishlist for next Autumn!
You can buy his designs for Unmade here.
Unmade Meets Haeckels
This post originally appeared on the Unmade website in February 2016. Read here.
We met Alex from Haeckels, a natural fragrance and skin care brand we had worked with to develop a custom room fragrance for our concept shop, in their boutique at the Ace Hotel in Shoreditch. It was founded in 2012 by his friend Dom Bridges, who at the time was working in advertising and was dismayed by the synthetic ingredients used by the skincare companies he worked with.
The aha moment came during a trip to China and realising the seaweed was valued there, often eaten as part of a meal. A stark contrast compared to back home in Margate (an old British seaside resort that had gone deserted with time but is seeing a resurgence of artists and artisans lately), where locals complain about the seaweed that just lays there on the beach, unused and rotting.
"You can eat every type of seaweed in the world," Alex explains. "They're all high in vitamins. It's all about uses and how they taste. So he looked into what he knew about: skincare. He decided to start making soaps in his kitchen, looking up recipes on YouTube and googling everything."
Dom's friends were quick to request more than his beautiful soaps and he started to develop "a skincare range, haircare, everything that goes onto skin or hair is seaweed based. The he started to get into home fragrance, which is all plant based."
Wondering what the numbers on the perfume bottles are? They're the GPS locations of where the plants used in one particular fragrance were found. Alex points out that "the names are less important than the documenting. If I give you perfume and say that it's rose, you're going to smell the rose."
In Haeckels parlance, their boutique at the Ace Hotel in Shoreditch would be 51°31'33"N 0°4'40"W, whereas our studio in Somerset House is 51°30'38"N 0°7'4"W. And what would that smell like? Somerset House is near the river and you can breathe, so it would have notes of "water, open air and wooden doors" while the more concentrated Shoreditch area reminds Alex of "food, sweat and concrete."
Since neither of these have been bottled yet, you can find Haeckels perfumes here, for Valentine's day or literally any day of the year.
Unmade Meets Sipsmith
This post originally appeared on the Unmade website in December 2015. Read here.
One cold and sunny December day, we made the trip to quaint and quiet Chiswick to pay a visit to our partner in crime Sipsmith*. The traditional copper distillery, opened in 2009, aims to bring back gin making (and fun having) to London. Once completely ubiquitous in the city, gin started being restricted by law - only stills over a certain capacity were allowed to make gin - and fell out of fashion.
Prudence, their first copper still, with her delicate curved swan neck, is the reason Sipsmith bears a swan on every bottle. She is so busy now that the Sipsmiths had to give her little sisters: Constance, Prudence and Cygnet. Should we introduce them to our own Unmade knitting machines, Herman, Helga, Hansel and Gretel? We have a feeling they would get along.
The Unmade cocktail
A twist on the classic Negroni, the Unmade cocktail stays true to our ethos: a curated starting point, and the rest is up to you!
You will need:
Option 1: Campari + Vermouth + Sipsmith London dry gin + Sipsmith sloe gin
Option 2: Campari + Vermouth + Sipsmith sloe gin
Option 3: Campari + Vermouth + Sipsmith V.J.O.P. + Sipsmith sloe gin
Option 4: Campari + Vermouth + Sipsmith V.J.O.P.
We went for the option 2, as it wasn't exactly gin o'clock yet (the Sipsmiths would disagree) and it seemed like the sweetest option. The initial bitterness of the Campari was quickly offset by the delicious sloe gin. We recommend options 1 and 3 for an extra kick, while #4 is for gin aficionados only.
How to unmake your cocktail:
Pour all the ingredients in equal parts over ice. Stir for a few seconds and pour on the rocks in an old fashioned glass. Garnish with an orange peel. Sip slowly and enjoy!
One last tip from the Sipsmiths: always pour the least expensive drinks in your cocktail first - that way if you get it wrong you can throw it away and start again.
*Not literal crime. We just mean that we have a criminally good time when they provide us with drinks.